© Gaëlle Mathieu / WWF-France
This is a climate emergency
From fires to melting glaciers and droughts, it is clear we are facing a climate emergency. The decade up to 2019 was the hottest ever recorded. Urgent action is needed.

In 2015, 195 countries, including the EU, signed the Paris climate agreement. In Paris we committed to keeping global heating well below 2°C and pursuing efforts to keep it to 1.5° C.

The EU's climate and energy targets are not in line with these goals.

It is not enough to cut greenhouse gas emissions 40% by 2030; we need to urgently increase the EU 2030 target to 65% emissions reductions, in line with climate science.

The 32% renewables target and 32.5% energy efficiency targets for 2030 are also far too low.

EU leaders have agreed to a climate-neutral Europe - meaning zero net greenhouse gas emissions - by 2050. WWF believes that the EU should aim to reach zero net emissions by 2040 to uphold the Paris Agreement and avoid the worst impacts of climate change.
"Reaching net zero emissions by 2040 in the EU is essential if we are to uphold the Paris Agreement and limit devastating climate change."
Imke Lübbeke
Head of Climate and Energy
WWF European Policy Office
What WWF is doing
WWF is advocating and campaigning for:
the 2030 climate and energy targets to be made more ambitious - including a 65% emissions reductions target
a strong EU mid-century strategy which aims to reach zero net emissions by 2040
an ambitious industrial decarbonisation policy;
EU countries to phase out fossil fuels and their subsidies rapidly, beginning with coal;
finance for clean technologies, for the just transition, and for adaptation, loss and damage and scaled up climate action.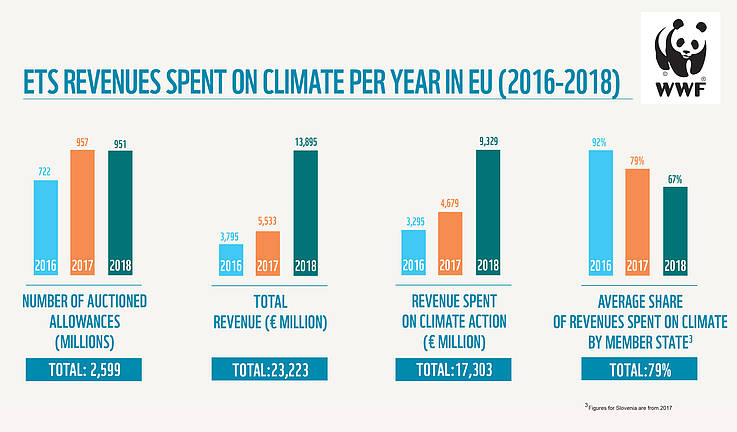 © WWF EPO / JQ&Ros
Strategic spending: how the EU Emissions Trading System can fund fair climate action
EU Member States are spending billions of Euros less on climate action through the Emissions Trading System (ETS) than they could,
WWF analysis reveals
.
According to EU Member States' reporting
, of the €13.9 billion total ETS revenues in 2018, one-third - €4.6 billion - was not spent on climate actions like insulating homes or installing renewable energy. What's more, emissions allowances worth €11 billion were given out to polluters for free. This makes almost €16 billion of missed money for climate action last year.
For an effective ETS for the climate, WWF makes six recommendations:
Improve Member State reporting on how they spend their revenues
Agree that Member States must spend 100% of revenues on climate action, and ensure climate spending is additional to state climate spending
End free allocation of allowances

Exclude fossil fuel investment

from ETS revenue spending
Remove excess ETS allowances from the market for good, and lower the cap
Introduce sustainability and climate proofing rules to ETS climate spending
Read Strategic Spending: how the EU Emissions Trading System can fund fair climate action