258,708 Europens said yes to a Living Land
thank you!
In February 2017 the European Commission launched a public consultation on the future of our food and farming system. 258,708 Europeans and 600 organisations and businesses joined our Living Land action and urgently asked for a radical reform of the EU's broken Common Agricultural Policy!

In May 2017 the Living Land coalition handed over the signatures and logos to former Commissioner Phil Hogan:




The Living Land campaign was initiated by WWF, BirdLife Europe & Central Asia and the European Environmental Bureau (EEB) to overcome the technicality and complexity of the public consultation and give the opportunity to a broader part of society to have a say about a policy that affects us all. All people and organisations that joined Living Land shared the view that the EU's Common Agricultural Policy is broken and that it can and must be fixed. The next CAP must be:
Fair – for farmers and rural communities;
Environmentally Sustainable – for clean air and water, healthy soil, and thriving plant and animal life;
Healthy – for good food and the well-being of all people;
Globally Responsible – for the planet's climate and sustainable development around the world.
With this massive mobilisation, Living Land showed very clearly that many citizens are asking for a modernised CAP, a policy which should be fundamentally reformed to facilitate the transition to a truly sustainable food and farming system in Europe.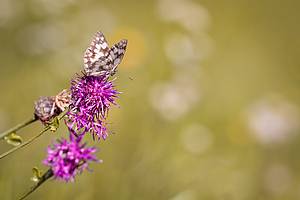 There is no farming without nature. But industrial agriculture is the main cause of biodiversity loss, causing air and water pollution, and soil degradation.

We want a better farming system that protects Europe's nature and climate.

CAP accounts for almost half of Europe's budget, but most of our small and medium farmers have been put out of jobs. Why? Because 80% the CAP direct payments go to 20% of the richest agro-businesses.

We need a fairer system!
We are what we eat: our health is strictly related to the variety and quality of the food we eat. But so much of the food that ends up on our plates is sprayed with harmful pesticides and is tasteless.

We want good food that has the taste of nature in it!
Photo Gallery
Agriculture employment fell by 25% over the last decade. © Pixabay
EU's farming policies lead to collapse in Europe's bird population. © Fritz Pölking / WWF
Intensive farming is a serious threat to European butterflies!
57% of our farmland birds have disappeared since 1980. © naturepl.com / David Tipling /WWF
24 % of European bumblebees are threatened by extinction. © Pixabay
Southern Iberian Painted is losing its\' habitat to aquifer overexploitation and water pollution caused by pesticides. Frog © Jorge Sierra